Nutrition and a healthy lifestyle are the building blocks of a strong immune system and nature has provided us with countless options to help us combat illness.
Your immune system plays an integral part in fighting off viruses. A weakened immune system could leave you susceptible to colds and flu throughout the year but a strong immune system can help prevent these illnesses or at least minimise the severity and duration of them. 
To build a healthy immune system, make sure you include a wide range of foods in the list below to increase your vitamin and mineral intake. We have also given you our top seven tips to boost your immune system. 
Essential Vitamins and Minerals for a Healthy Immune System
A lack of vitamin C has been long known to increase susceptibility to viruses. In fact, studies have shown that vitamin C deficiency is related to the increased risk and severity of influenza infections. 
Dr. Andrew W. Saul, an international expert on vitamin therapy, says, "The coronavirus can be dramatically slowed or stopped completely with the immediate widespread use of high doses of vitamin C. Bowel tolerance levels of C taken in divided doses throughout the day, is a clinically proven antiviral, without equal."
Vitamin C is well known for its immune-boosting qualities but there are a number of other vitamins and minerals that are just as important for keeping you healthy and lowering your chances of catching a virus. 
Food Sources Include: 
Omega 3

fatty acids found in oily fish, flaxseeds, hemp seeds, cod liver oil and walnuts.

Zinc

found in sardines, red meat, oysters, beans, seeds, oats, rye, buckwheat, eggs, ginger root, pecans, brazil nuts, oily fish, parsley, garlic, corn, cauliflower and potato.

Vitamin E

found in nuts, seeds, whole grains, red meat, prunes, peaches, spinach, broccoli, tomato, asparagus, avocado, potatoes and cabbage.

Vitamin D

found in fatty fish, cod liver oil, cheese, egg yolks, mushrooms and from sun exposure.

Selenium

found in brazil nuts, pecan nuts, sesame seeds, oats, brown rice, tuna, salmon, shellfish, red meat, butter, apple cider vinegar, gelatin, egg yolk, cheese, pecans, hazelnuts, chard, mushrooms and garlic.

Vitamin A

found in liver, kidney, butter, egg yolk, deep-sea fish, carrots, dark leafy greens, sweet potato, pumpkin, broccoli, red capsicum, papaya, nectarines and dried apricots.

Vitamin C

found in red chilli, red capsicum, strawberries, citrus fruits, papaya, mango, kale, broccoli, watercress, cauliflower, asparagus, okra, lima beans, black-eyed peas, brussel sprouts and spinach.

 
1. Include More Immune-boosting Superfoods

Raw honey has antioxidant and antimicrobial properties that strengthen the immune system. 
Bee pollen is also a powerful modulator of our immune system and has antiviral and antimicrobial properties. 
Flaxseed and citrus peel both contain compounds that were found to have an inhibitory effect against the SARS Coronavirus. 
You can add flaxseed to salads, muesli, chia pudding and smoothies.

Orange zest can be added to smoothies for an extra medicinal boost. 
Probiotics provide us with bacterial strains that are good for our gut. Approximately 70% of our body's immune system resides in our colon. Good gut health is an important part of a healthy body and mind.
There have been multiple studies showing the benefits of probiotics for our immune system including increasing the production of natural antibodies in our body, boosting immune cells and natural killer cells and reducing the likelihood and duration of respiratory infections. 
You can find probiotics in fermented foods like kimchi, sauerkraut, tempeh, miso, kefir, fermented dairy products and high-quality probiotic supplements. Fermented foods are important to prime your immune system. 
Elderberry tea, tincture or tablets have good antiviral properties, as well as being a respiratory tract tonic.
2. Stay Hydrated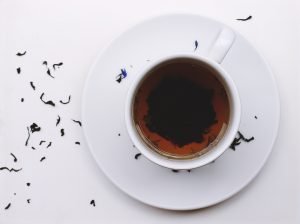 It's important to drink plenty of fluids, especially water. Often, when people get the flu, they lose a lot of fluids through sweating and can quickly become dehydrated. 
For additional medicinal benefits include these drinks:
Lemon juice diluted with warm water, ginger, garlic and honey. These ingredients have antiviral properties.

Herbal teas like yarrow, elderberry and peppermint are high in polyphenols and are a perfect tea blend to reduce the symptoms of the flu.

Freshly made juices with a combination of carrot, beetroot, celery and apple for a range of nutrients. For additional benefits, add ginger to your juice or smoothie. Ginger has anti-inflammatory, antiviral and antibacterial properties. 
3. Up Your Intake of Fruits and vegetables. 
Fresh fruits and vegetables contain so many nutrients that are good for our bodies in including helping our immune system fight off infections. 
Brightly coloured foods such as carrots, beets, broccoli, pineapple, eggplant, berries and dark leafy greens contain phytonutrients which help prevent illnesses.
One of the best ways to get all the benefits from these nutrient-rich foods is by eating more soups during flu season or when you are ill. 
Combining phytonutrient-rich vegetables, antiviral herbs and spices and immune-boosting mushrooms will make for an excellent virus-fighting meal. 
4. Add Flavour to Your Food with Healthy Herbs and Spices
Many herbs and spices have immune-boosting properties too. 
Turmeric, garlic, oregano, thyme and ginger have antiviral and antibacterial properties.

Cayenne pepper, chilli pepper and black pepper have been shown to kill pathogens directly.

Liquorice has been used to inhibit the replication of influenza viruses in humans.
5. Medicinal Mushrooms 
There are a number of medicinal mushrooms that have different health benefits but they all have compounds that play a role in boosting our immune system. 
Shiitake mushroom:

has a number of vitamins, minerals and enzymes good for our bodies such as B vitamins, vitamin D, selenium, niacin and 7 of the 8 essential amino acids. The enzymes in shiitake mushrooms also help us to absorb our food better.

Chaga mushroom:

contains the highest amount of antioxidants than any other food. It also has high amounts of zinc which is essential for a healthy immune system.

Reishi mushroom:

well known for it's anti-histamine and anti-inflammatory properties, it also activates the immune system and reduces fatigue.

Turkey tail: high in antioxidants and has been shown to increase a type of white blood cell responsible for immunity against viruses.
6. Know What to Avoid 
Sugar & processed products

like soda, biscuits, cakes and white bread. Studies have shown that consuming sugar can suppress the body's immune response. 
In another study done in 1972, subjects fasted overnight and then consumed 100 grams of carbs from various sources. The effectiveness of their neutrophils (white blood cells that protect us from infections) was reduced by 40% for 5 hours. (i)
Mucus-forming foods

such as

dairy products and wheat.
7. Lifestyle Factors That Affect Your Immune System
Practice good hygiene. There's a good reason we are taught from a very young age to wash our hands. Keeping your hands clean by washing often with soap and water is one of the most important steps you can take in reducing the spread of viruses and bacteria. You can also reduce the spread of germs by coughing and sneezing into a tissue or if you don't have a tissue, into the crook of your elbow. 
Reduce stress. Many illnesses have been linked to chronic stress so it's important to make time to relax and do things you enjoy. Some ideas for managing stress include practising yoga, meditation and moderate exercise; making use of time management and goal setting; creating a lifestyle that is fulfilling and pleasurable.  
Exercise. Studies have shown that exercise can help regulate the immune system and reduce inflammation in the body. 
Get lots of rest. Not getting enough sleep can have an adverse effect on your immune system and will make it harder for your body to fight off any viruses. 
A healthy diet that includes a range of whole foods and reduces the consumption of processed foods, healthy lifestyle practices and upping your intake of natural antivirals are the keys to building a healthy immune system that will help fight off viruses. 
(i) (Sanchez, A. et al. (1973). Role of sugars in human neutrophilic phagocytosis. The American Journal of Clinical Nutrition 26 (11): 1180–1184.